The Perfect Date Night for the Holidays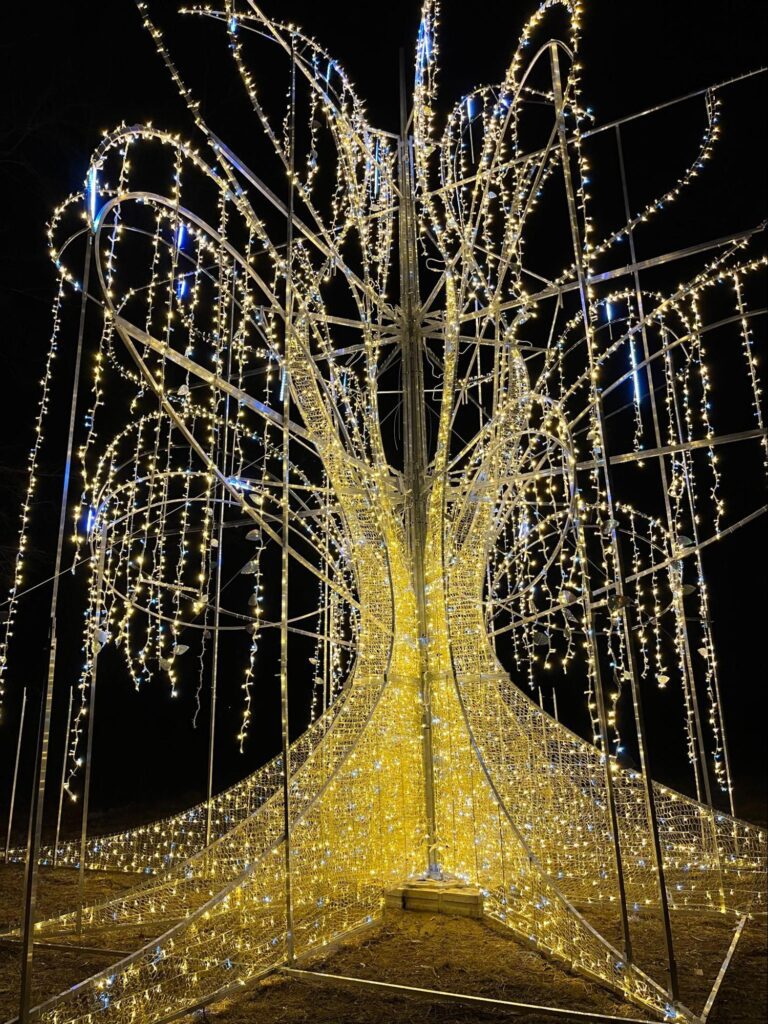 The holiday season: an ideal time to snuggle up, get cozy, and burrow against the cold with a significant other. However, snowy winter nights outdoors can provide delights as well. Anyone looking for a festive first date or a special night with their long-time partner will find a suitable contender in the form of a Christmas maze and holiday light show! These attractions offer a magical way to embrace the seasonal spirit and enjoy a grand event.
Come to Winter City Lights for your Christmas lights show this holiday season. Situated in Olney, MD, this holiday attraction checks all the celebratory boxes: twinkling lights, winter activities, rich food, and ample opportunity to bond over your holiday date night. Indeed, this attraction was recently rated the second most magical Christmas lights display in the US, outranking Illumination Lights and Enchant DC. Organized by the same team as the award-winning Field of Screams Maryland Halloween, Winter City Lights is the region's newest annual holiday tradition for families and couples alike. Get your ticket today on their website or call (888) 720-1112 for more information.
Below, we discuss how to prepare for your holiday light date night:
Dress Up and Get Warm
Purchase your tickets to Winter City Lights before your visit. Their tickets sell out fast, and you won't want to show up without yours! Then, on the night of your date, outfit yourself with warm and cozy clothing. Doing so will prevent cutting your magical experience short due to discomfort. Since this holiday light show and trail are outdoors, expect nippy weather. The appropriate dress also sets a holiday vibe and creates an incentive to cuddle up and stay warm. 
Nevertheless, dressing cozy doesn't have to mean bumming it. Dress nicely for your date! Winter City Lights also offers delicious treats and hot chocolate to help customers combat the temperatures.
Head Over and Turn on the Christmas Music
With your tickets purchased and date night outfit on, head to Winter City Lights for a magical 1.5-mile-long trail of Christmas lights and displays. You should turn up the Xmas music as you travel. These classic tunes always inspire the holiday spirit and spark great memories for many people. Feel free to sing along, though your car ride may be the perfect opportunity to get to know your date. Winter City Lights syncs Christmas music to their light show as well!
Explore the Christmas Lights Show Attraction!
Once you arrive, explore the diverse activities and attractions. The decorations within Winter City Lights include a 52-foot-high Christmas tree programmed for light shows throughout the evening. You'll also find 14 bonfires, a 200-foot diameter canopy, and over 1 million twinkling lights.
Such decorations create an ideal setting to hold hands and take cute photos together. Moreover, Winter City Lights offers activities like axe throwing and snow tubing. Be aware that you must purchase access to these in addition to your ticket; nevertheless, they can make your night even more exciting! Give yourself plenty of things to see and do.
Tie It Up Like a Christmas Bow
After exploring the compound, find a warm place to talk and reflect. You can enjoy a romantic hour or 2 next to a bonfire or a colorful light display. You might also share some treats and warm up with a hot chocolate. The night may be cold, but a date can make it comfortable and exciting.
Visit Winter City Lights for an Amazing Christmas Maze and Holiday Light Show!
Why settle for the same old holiday movies when Winter City Lights features an enchanting Christmas maze and holiday light show? New and long-time couples will find these delights—and more—in Olney, MD. You might team up with several other couples and transform your visit into a group tour! Learn more about our festive offerings by contacting us online or at (888) 720-1112.