5 Family Activities to Do in the Snow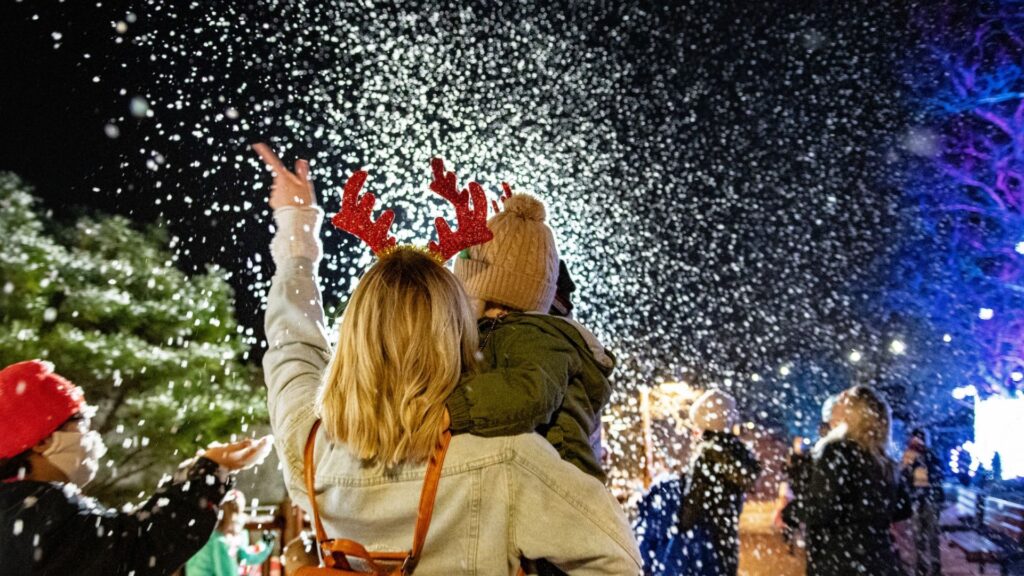 Few experiences can match the sheer delight of a perfect snow day. It can transform a typical weekday into a captivating winter wonderland with endless possibilities. But selecting the ideal way to spend that day presents a delightful challenge. Fortunately, a handful of timeless snow day activities are guaranteed to captivate the entire family. From the thrill of snow tubing to the drama of snowball fights, these tried-and-true activities promise joy and entertainment. 
Winter City Lights is the perfect destination for a frosty adventure during the holidays. The team behind Field of Screams Maryland revamps their compound into a magical experience like nothing else. Winter City Lights is spread across 18 acres and features a 1.5-mile trail of Christmas lights and decorations as well as 14 bonfires, snow tubing, and diverse concessions. Winter City Lights tickets are on sale now for November and December dates by calling (888) 720-1112 today!
Below, we list the perfect snow day activities for families:
1) Build a Snow Sculpture
Sure, you could throw together a standard snowman this winter. But if you want to leave your neighbors in awe, why not push your artistic boundaries and think big? Forget snow angels and crude snowmen; try creating snow sculptures! These can range from a life-size tiger or an octopus with curled tentacles to a beast of your own creation! Although these endeavors may seem daunting, they demand nothing more than a bit of time, a touch of ingenuity, and an adventurous spirit.
Optimal conditions for crafting a snow sculpture require slightly moist snow that can pack together—powder won't stick to itself. Next, you'll need to plan how to set up your design. Professional snow artists often use plywood to mold their creations, yet a large trash can works fine. All that's left to do is pack the snow onto your form and use a tool (screwdrivers and chisels work great!) to bring your Michelangelo-esque sculpture to life!
2) Create Snow Art
If grand sculptures don't pique your interest, there are other wintry endeavors that you can pursue, such as using food coloring to create snow art. Fill a few squirt bottles with water and add a few drops of liquid food coloring. With a patch of snow as your canvas, squirt your vibrant design on the ground.
This technique allows you to take a few creative avenues, such as drawing a tic-tac-toe game, hopscotch, or adorning your snow sculpture with color. Even as the snow begins to melt, you'll continue to admire the colorful patterns in the slushy aftermath!
3) Look for Animal Tracks
Although you may not immediately notice, people aren't the only ones enjoying the snow! Chances are some furry or feathered local inhabitants have also trekked through your wintry yard. Rally the family together and embark on a quest to uncover animal tracks in the snow– you may be surprised by what you find!
If you'd like to help out the fauna in your yard, bring along a bag of birdseed to sprinkle as you go. Your feathered friends will appreciate the gesture, and you can quietly bask in the melodious chirping you attract.
4) Have a Snowball War
Spark neighborhood-wide winter excitement by orchestrating a spirited snowball war! Assemble your friends and family into teams, then channel your inner camaraderie and competitive spirit. Elevate your game by constructing formidable snow forts to provide cover or deploy snowmen as sneaky decoys. Remember that battle scars are not uncommon in these brawls, so ensure all team members are up for the challenge. However, bundling up in heavily insulated clothes should protect you from most snowballs and keep you warm. It's all good fun and a perfect way to get neighbors together!
5) Go Snow Tubing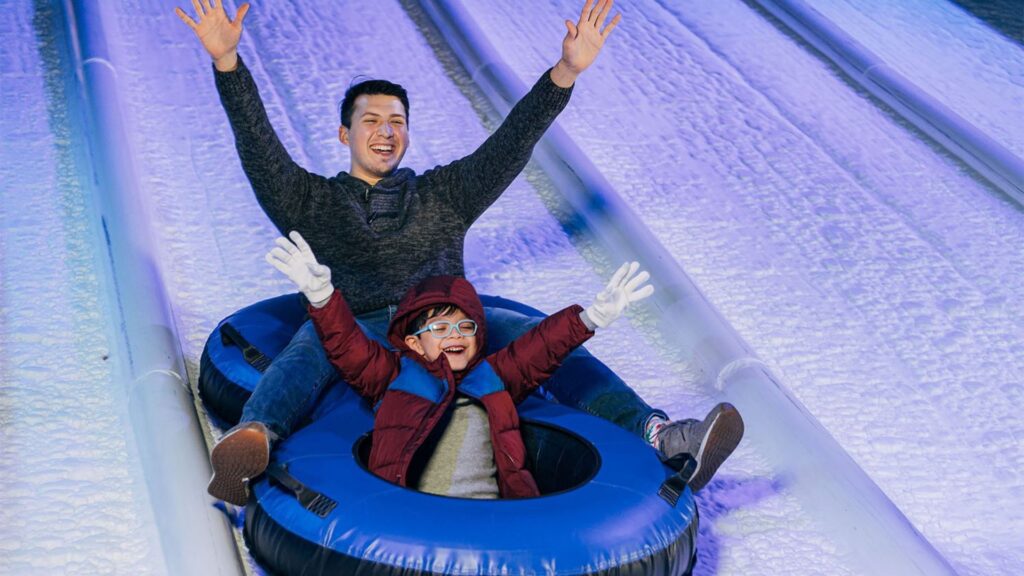 After a hearty snowfall, snow tubing tracks are in peak condition. Tubing is an exhilarating winter's day activity (as long as you can safely leave the house). You might engage in family races down the slopes or a leisurely glide atop the fresh-fallen snow. Rather than getting cabin fever at home, go to the slopes and inhale the fresh air. 
Over at Winter City Lights, the attraction experience is incomplete until you've ridden our 8-lane, 15-foot-high snow tubing ride. You can watch the 1.5-mile trail of Christmas lights illuminate the snow or cozy up around a bonfire with tasty concessions. There is something for the entire family to enjoy when you spend a snow day at Winter City Lights!
Exciting Snow Tubing Tracks at Maryland's Winter City Lights!
DMV residents who want to add magic to their snow day will find it at Winter City Lights. Ranked the second most magical Christmas lights display nationwide, Winter City Lights offers an array of breathtaking attractions, from 2 hours of unlimited snow tubing rides to a dazzling canopy of twinkling lights. Call (888) 720-1112 today for more information on ticketing and dates.